Budget coffee tour: a list of the best coffee houses in Italy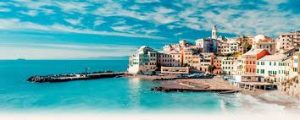 For residents of Italy, coffee is not just a drink, but an integral part of everyday life. Tourists also do not miss the opportunity to have a cup of excellent latte or espresso coffee. We offer you a list of budget hotels and nearby interesting coffee houses in the most tourist cities in Italy.
Venice
Where to stay: Hotel Centauro
Address: Calle de la Vida, Campo Manin 4297
Quite a budget, but certainly a pleasant hotel in a quiet street near St. Mark's Square – the main city square in Venice. Room rates – from 87 euros per night.
Where to drink coffee: Caffe Florian
Address: St. Mark's Square, 57
This coffee house is one of the oldest in Venice, exists since 1720. The unique atmosphere, stylish design and antique furniture allow you to go back several centuries. The cost of coffee from – 3 euros. Website: www.caffeflorian.com.
Florence
Where to stay: Hotel Burchianti
Address: Via Del Giglio 8, Santa Maria Novella
The hotel is located near the central square of the Duomo in the historical part of the city. Antique furniture and murals make you feel like a hero of the Golden Age novels. The cost of a double room – from 99 euros.
Where to drink coffee: Giubbe Rosse
Address: Piazza della Repubblica 13/14
A cozy place in the center of Florence, where you can drink delicious coffee from 2 euros. Website: www.giubberosse.it.
Rome
Where to stay: The Beehive
Address: Via Marghera 8
A cozy, modern and fashionable hostel, which was opened by an American couple who came to Rome to realize their dream. Room rate – from 70 euros.
Where to drink coffee: Sant'Eustachio il Caffe
Address: Piazza di Sant'Eustachio 82
The coffee shop is located in the "heart" of Rome, near the Pantheon. Exists since 1938. The current owners cherish the traditions of making coffee. Cost – from 2.5 euros. Website: www.santeustachioilcaffe.it.
Naples
Where to stay: Hotel Correra 241
Address: Via Correra 241
The hotel is located a few steps from the historic center of Naples. Cozy and modern rooms starting at 90 euros.
Where to drink coffee: Gran Caffe Gambrinus
Address: Via Chiaia ½
The incredible atmosphere of the literary cafe inspires all visitors, and the strong espresso and delicate latte will definitely not leave anyone indifferent. The cost of a cup of coffee is from 1.5 euros. Website: www.grancaffegambrinus.com.